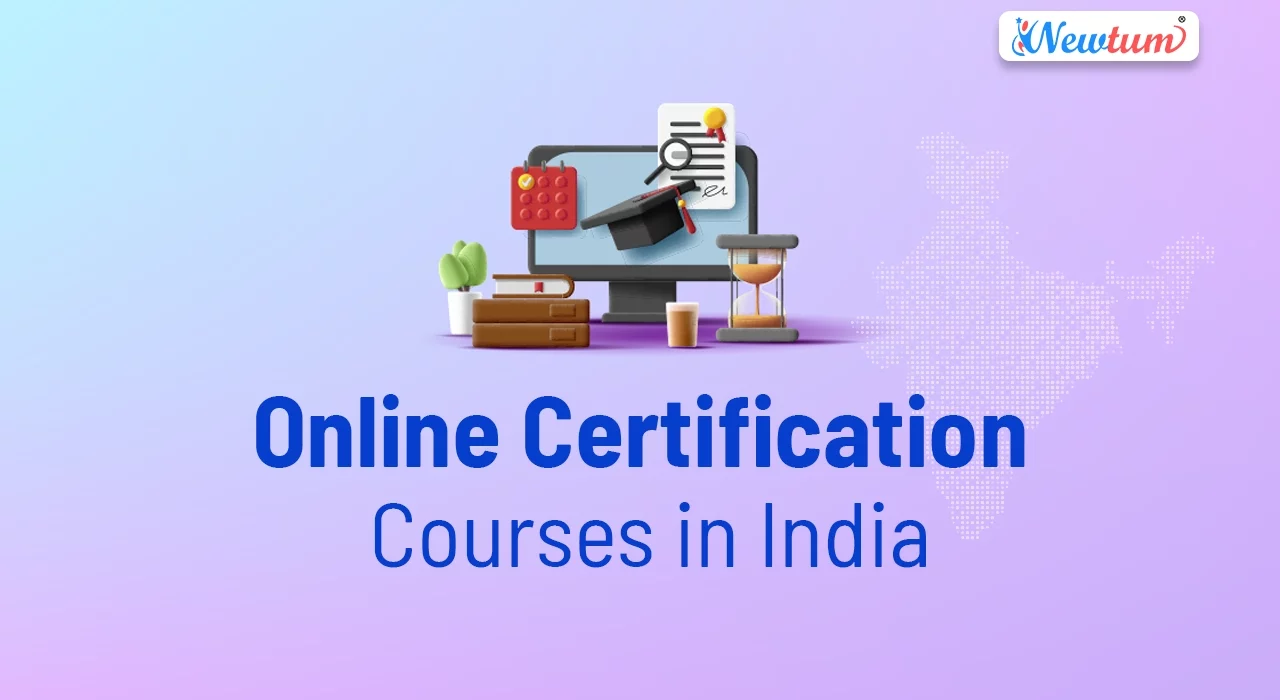 (Last Updated On: 30/05/2023)
As a result of their accessibility, accessibility, and freedom, online coding classes with certification in India have grown in popularity. Without having to attend conventional classrooms, these courses give students the chance to develop their coding skills and information in the areas of their choice. Online coding classes give learners a handy and approachable way to upgrade their skills and improve their employment chances in light of the growing demand for coding abilities in the labor market. It's important to take into account aspects like the course's substance, the legitimacy of the certification, and the name of the course provider when selecting the best online coding school with certification. You can acquire the abilities and information required to thrive in the dynamic world of coding with the proper training.
Best Online Courses in India with Certification
Overview
Total Number of Courses
13
For 12th Class Student
Certification
Yes
Course Fees
Variable
Which are the Best Online Courses with Certificates in India?
Online Certificate Courses in India After 12th Class
Core Python
Python is a widely-used programming language for web and database applications as well as advanced AI and machine learning applications. As a result, the demand for Python developers is increasing. This course is one of the Online Certificate Courses in India for Software Engineering and even for students after their 12th standard. Newtum offers a unique Python online certification course that includes three certificates after a personal interview to cater to different industry demands. The course includes extensive coverage of core Python concepts and offers free updates on the latest version of Python for life. The course design is by a combination of expert Python developers and experienced explainers, with high-quality VFX animation to help students understand the concepts easily. The course also includes code explanations using the latest IDE and tools, helping students to catch up with market demand quickly. Additionally, the course offers 24/7 online chat support for queries. The benefits of the course include learning all the modules of Python in a single course, free practice videos, and improving logical and reasoning skills with basic and advanced examples. The course also encourages students to solve bigger problems and provides integration with advanced OCR and image processing tools, giving them a direct entry into the AI and image processing world.
Create Own Cryptocurrency
This course on creating your own mineable cryptocurrency is designed for individuals who want to learn about blockchain and cryptocurrency and also for those who want to create their own digital assets. The course covers everything from planning and building a coin to setting up a mining pool, creating a desktop wallet, and developing an explorer. The team at Newtum has vast experience in developing a cryptocurrency, so they have developed a detailed course that explains each step in every detail so that even non-technical people can create their own cryptocurrency.
The course has multiple benefits, including understanding blockchain and cryptocurrency, creating your own cryptocurrency, and pursuing a career in software or freelancing. This course is open to anyone regardless of technical knowledge, and the course teaches everything in a simple way. The estimated time to complete the course is less than 3-4 hours, and you can have your coin ready in 1-2 days. You will also have your own mining pool, explorer, and desktop wallet.
The technical knowledge required to take this course is minimal, but you will need to purchase a server to host your coin nodes. The course covers the exact server requirements, and the online support team is always available to help with live chat and screen-sharing support. Overall, this course is a great opportunity for anyone who wants to learn about blockchain and cryptocurrency and wants to create their own digital assets.
Coding for Kids Online C Programming
Coding for Kids Online is a course designed to teach basic to advanced concepts of programming slowly to children in ultra-small sessions (20-30 minutes) with a 1:1 teacher-student ratio. The course includes 50 sessions covered in four months by an expert faculty for $450. The course teaches C Programming, the foundation course of programming, which is essential for anyone aspiring to be a software developer. C Programming explains variables, functions, loops, if, and else in a fun and easy way and creates the foundation of advanced courses like C++, Java, PHP, and Python. The course improves the logical and reasoning skills of students and provides practical experience under the guidance of an experienced faculty member. The course is available for anyone from 8-year-old kids to senior citizens, but the student must have a Windows or Mac operating system, a decent internet connection, a headphone, and a webcam for smooth functioning. The course is available worldwide, provided the student understands normal English.
C Programming Online
Newtum's C Programming online course for kids is a fun and easy way to introduce children to programming concepts. C Programming is the foundation of all programming languages and mastering its concepts will set children on the right path to becoming full-stack developers in the future. The course covers basic programming concepts such as variables, operators, conditional statements, loops, and complex problem-solving using algorithms.
The course is available in two options, video tutorial, and live training, and is suitable for kids between the ages of 8 to 18. The video course can be accessed through the website, with parents and children learning together. The Newtum support team is always available to help with any issues or errors faced during the course.
The course is recommended for children interested in programming, game development, or any other computer-related subject. Parents of children between the ages of 8-15 are advised to provide support with basic installation. Overall, the C Programming for Kids course is an excellent way to introduce children to the world of programming in a fun and interactive way.
Essential Python for Kids Online Line
Newtum's online Python course for kids is a great way to teach programming to kids aged 8-14. Python is an important language used in all futuristic applications such as AI, IoT, and ML. The course is designed specifically for kids, with no prior programming knowledge required. Even students in 9th, 10th, 11th, and 12th grade can take this course as Python is a part of their school curriculum.
One of the biggest advantages of the course is the one-to-one student-teacher ratio, which ensures personalized attention and maximum learning. The faculty are exclusively trained to teach kids programming, making learning fun and easy. The course offers 30 sessions over a period of 2.5 months, and each session is conducted by an expert Python trainer.
Learning Python at a young age offers several benefits, such as improving logical and reasoning skills, enhancing problem-solving abilities, and a better understanding of how computers work. Concepts like if-else, loop, and variables, which are the basis of every programming language, are also taught. Additionally, learning Python programming will prepare kids for future technologies like AI, IoT, Blockchain, etc.
Overall, Newtum's Python course for kids is a great investment for parents who want their children to learn a useful and in-demand skill that will benefit them in the future.
Complete C++ Programming for Kids
Complete C++ Programming for Kids is a specially designed course that aims to teach children aged 12-17 about Oops and structure programming. The course focuses on important concepts like inheritance, encapsulation, abstract classes, classes, objects, etc. Kids who understand Oops can easily learn advanced programming languages like Java and C#. The course helps children develop logical and reasoning skills, problem-solving skills, and a better understanding of how computers work. Additionally, it enables children to build advanced system-level applications and compilers. The mode of delivery is online, so children from any part of the world can take the course. The course content is designed specifically for children, and the student-to-teacher ratio is 1:1. The Newtum team has trained IT faculty members who are exclusively trained for teaching children. The course is available in the English language with USA and UK accents, and trainers for regional languages of India like Marathi, Gujarati, Tamil, etc. are also available. The course provides a certificate to prove knowledge of a particular topic. After the course and continuous tests, the trainer ensures that the kids are well-versed in programming before issuing a certificate with the signature of the teacher and the coordinator from the Newtum team, giving it more credibility for job applications.
Complete Python Certification Course Online
Newtum offers a Complete Python Course for Kids online which can help them develop programming skills from an early age. With Python being used in futuristic applications like AI, IoT, and ML, it is the best choice for teaching programming to kids. The course is suitable for kids aged between 8-14 years and even for school students in grades 9-12 where Python is a part of the curriculum. The course spans 50 sessions and is conducted by an expert 1:1 Python trainer for over 3.5 months.
Newtum provides a unique learning experience for kids with a 1:1 student-teacher ratio, ensuring personalized attention and an enjoyable learning experience. The course content is specially designed for kids to make learning easy and fun. The faculty is trained exclusively for training kids and is experienced in the IT industry.
Learning Python can help kids improve their logical reasoning and problem-solving skills, and understand the basics of programming like if-else, loops, and variables. Python programming can also prepare them for future technologies like AI, IoT, Blockchain, etc. By enrolling in the Complete Python Course for Kids by Newtum, parents can ensure their kids are equipped with essential programming skills at an early age, setting them up for a successful future.
IIT Bombay Spoken HTML
The HTML Course by IIT Bombay Spoken Tutorial is an online course designed for anyone interested in learning the basics of HTML, including 11th and 12th graders, undergraduate and postgraduate students, and IT/CS students. The course offers comprehensive learning through videos, covering topics such as an overview of HTML, formatting tags, element tags, tables, and multimedia management. The course offers dual certification, including a participation certificate and a completion certificate awarded after an online exam with a minimum 40% score. This course is an excellent opportunity to enhance your resume, showcase your HTML skills, and become a competitive candidate in the job market. Enroll today and start your journey towards success with IIT Bombay Spoken Tutorial Certificate and IIT Bombay Spoken Tutorial Online Test.
Java tutorial
If you're considering a career in programming, Java is a versatile and widely-used language that can help you get started. The Java tutorial for beginners offered by IIT Bombay Spoken Tutorial Project is an excellent way to learn Java coding online. The course covers various Java concepts, such as data types, operators, loops, methods, classes, and objects, and encourages learners to develop problem-solving abilities. Upon completion of the course, learners receive dual certification from IIT Bombay Spoken Tutorial Project, which can significantly enhance their job prospects. Joining the Spoken Tutorial community also provides access to Java developers and educators for guidance and support. Enroll today in the Java Course by IIT Bombay Spoken Tutorial and start building your programming career!
PHP Tutorial
The PHP online course by Newtum is designed for individuals with a basic understanding or no knowledge of PHP programming language. The course covers PHP syntax, database integrations, functions, operators, classes, and arrays. Upon completion, students will receive a participation certificate and a completion certificate with a minimum 40% score, both certified by IIT Bombay Spoken Tutorial Project. The course is ideal for those seeking better job opportunities in PHP or wanting to freelance in PHP. PHP is a free and open-source language, making it accessible for all developers. Learning PHP can be beneficial for long-term careers in development or back-end engineering.
DJANGO
The Django course by IIT Bombay Spoken Tutorial Project is a self-paced, online course suitable for beginners who want to learn web development using the Django framework. The course offers dual certification, a certificate of participation, and a completion certificate obtained after the IIT Bombay Spoken Tutorial online test with a minimum score of 40%. The course is designed for UG/PG CSE/IT/CS students and professionals who have working knowledge or experience with programming languages like Python. By taking the course, you can learn how to develop web applications using Django, one of the most popular Python frameworks. The course uses a side-by-side methodology, making it easy to learn and practice simultaneously. With the increasing demand for web development skills, learning Django can enhance your career prospects and help you stay ahead in the job market.
How to Enroll and Obtain a Certificate?
In order to gain skills from online coding through the above courses just follow these steps:
Visit the official website of www.newtum.com
Log in or sign up if you're a new member
Buy the course according to your preference
Start Learning from Course
Some Courses have dual Certification- 1st Certificate of participation in the course and other certificates after completion.
Why Newtum Online Courses?
In today's digital world, upgrading your skills and talents is crucial to stay ahead in the competitive job market. Newtum's certificate courses can help enhance your credentials and increase your job prospects. These courses are designed to provide valuable learning experiences and give you an edge in your career. If you have any questions about Newtum's certifications, feel free to comment below. Don't forget to explore our website for top-notch online coding coaching.
Unlock Career Prospects
Flexible Learning
Skill Enhancement
Build Your Portfolio
Boost Your Resume
We hope this article helped you. If you have any questions regarding Newtum's Certifications Courses, do comment below. Don't forget to explore your website for the best online coding coaching.