(Last Updated On: 20/11/2023)
Welcome to the next server control level! Ever wondered how to access the brain of your Vultr Server? Well, get ready to be the mastermind behind it all with our guide on "Accessing Vultr Server Terminal using PuTTY." It is comparable to owning the keys to the command centre of your server. We'll explain the procedure in simple terms in this blog post, making it as simple as pie. Let's get started and utilize PuTTY's full potential!
Prerequisites
To start accessing your Vultr server terminal using PuTTY, there are a few things you need to have in place. First of all, make sure you have an account on Vultr. If you haven't set up your server yet, don't worry—we've provided you with a step-by-step guide on "Vultr Ubuntu Server Setup". Follow that guide to get your server up and running.
The next step after setting up a server on Vultr Now, the tools you need. PuTTY is a handy tool for connecting to your server's terminal, and WinSCP makes file transfers a breeze. If you don't have it installed, don't worry—find help by following the blog links "Installing PuTTY" and "Installing WinSCP". These will guide you through the process, making it easy even for those who are new to server management.
Once you've set everything up, it's time to connect to your Vultr server. You will also need your login credentials. If you're not sure where to find this, our "Vultr Ubuntu Server Setup" guide will refresh your memory. Make sure you connect your server to WinSCP.
Accessing Vultr Server Terminal using PuTTY
1. First, ensure that you are already connected to your Vultr server instance using WinSCP.
2. In WinSCP, go to the "Commands" menu and select the "Open in PuTTY" option. Alternatively, you can use the keyboard shortcut "Ctrl + P."
3. PuTTY will open in a new window and prompt you to enter a passphrase. Hit "Enter" to proceed.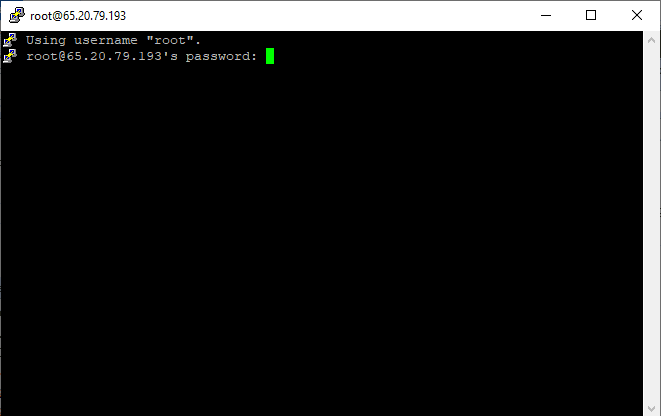 4. You are now connected to your Vultr server instance's command line via PuTTY.
With these steps, you can seamlessly connect to your Vultr Server instance using PuTTY for command-line access.